How to Maximize Social Media Traffic to Your Website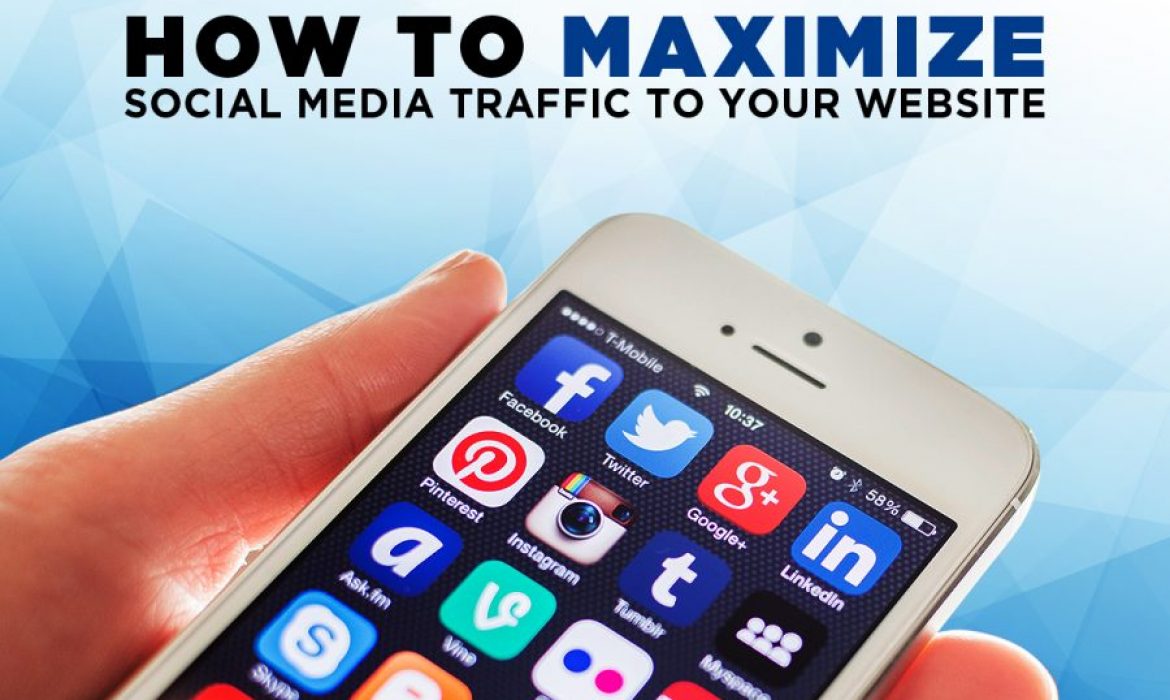 Have you ever wondered how to maximize social media traffic to your business's website? First, let's look at the facts.
As of 2021, there are 4.66 Billion individual Internet users in the world. Facebook, the social media giant, has 2.80 Billion users. Instagram has 1.074 Billion. YouTube has 2.3 Billion. Twitter has 192 Million. TikTok has 689 Million. 
While Google remains unbeatable at directing visitors to websites, you can't consider these numbers above without feeling impressed. Many business owners turn to social media, because extra traffic is an undeniably great investment– if they play their cards right.
It's easier than making an effort to improve rankings in Google since you've already done much of your work someplace else– namely, on your own website. That does not mean it's an absolute walk in the park though, particularly if you aren't already a big and renowned brand. But if others find success with it, and you want to do it too, why run from it?
So let's go through the how-tos of having as much social media traffic as humanly conceivable.
Stage 1: Prepare your social media pages
Undoubtedly, you need to "exist" in social media correctly before you can start using it as your traffic machine. Less noticeable are the details of it. These are the factors that will lay down the foundation of your social stronghold:
Your personal pages
Which will you prefer:
Speaking with a person;
Talking to a brand with a logo for its face?
The majority of people will go for option 1, most of the time. It makes interaction and communications much more personal and infuses trust into the relationship.
Once you've selected which social platforms you are going to use, set up your personalized accounts there– with your name and face. (If you already have them set up, great!) Be your own representative. Encourage others on your team to do the same, as well.
Personalized pages are also needed to build and expand your network, but we'll touch on that later.
Your Business Pages
The personal factor makes it much simpler to propel individuals to your website from your own social pages. Facebook influencers, in particular, often bypass the whole business page part and just post anything under their own personal name. You probably aren't there yet, so you'll want to dedicate separate pages for the site you are promoting.
Set them up and fill them out with as much info as you can.
First impressions often last for life. Here's what your pages need to make your first impression count:
Unique name
Unique logo
URL with your website's name
Cover image
What your website is and what it does (usually in an "About" section).
Contact information.
Link to your website.
Pictures that capture the essence of your website in the gallery.
Keep in mind to share the business pages' updates on your own pages and ask your colleagues to do the same!
Platforms you'll be using.
Everyone can name a couple of huge social media platforms without thinking: Facebook, Twitter, YouTube, Instagram, Pinterest, Reddit, Quora and others. It's safe to choose any one of them for promoting your website. As a matter of fact, there's no reason not to pick all of them, so long as your content is a good match.
Some platforms may need a more delicate course of action than others, though. For instance:
Reddit individuals are wary of advertisements. Brand-promoting threads get down-voted and hidden.
Twitter is infamous for its character limit.
Quora is a Q&A platform where sponsored write-ups can be covered up as questions.
Updates you'll be posting.
There are billions of individuals around the world viewing social media, but your ideal audience will be only a section of that. Design your updates to click with the individuals you desire to bring to your website.
Do you know your target audience well? What kind of content would they like the most? There will most likely be more than one answer, and it can vary anywhere between "comical" and "professional." You might wish to experiment with several different moods to see which work the best.
The only two traits that apply universally to all users are what "caters to their interests" and are "attention-grabbing." Only you will know what the rest are.
Stage 2: Organize your website and content
Let's remember rule number one of the Internet: Content is King. Excellent content on your site is necessary in social media promotion, too– even if you don't specifically post it there.
Imagine this scenario. Internet users visit your social media page and click on a link in one of your updates. It takes them to your site, they see your content and … it's terrible. What do you think happens next? You guessed it: users will bounce and never select another of your links in social media.
And we can't have that.
Driving traffic is all about both attracting new users and trying to keep your old users. For the latter, it's even more vital to watch the quality of your content. If it changes, it must only change for the better.
Stage 3: Direct users from social media to your site
Okay, the prep work have been made. Time to start doing what you came here for– bringing in traffic. The more of it, the better.
Post often
Individuals get plenty of updates from dozens of sources in their feed. The more of those updates are yours, the greater your odds of getting more clicks. Post on your page at least a couple of times a week; if you can make multiple updates in a single day, that's even a better option.
Post different types of content
It's more intriguing when you can offer a lot more than just text and images. Most platforms support many more formats, such as videos, polls, and slideshows. You can even get creative with the usual "dull" types of content and turn them into something more entertaining, like a game.
Not only will these content writers enjoy what you did, they'll also gain a notification and be introduced to your brand.
Re-post your own content
This works remarkably well, since users often miss updates in social media. Of course, it's best not to take any risks and update the re-posted content beforehand, so that the users who've seen it before will gain a reason to click on it again.
Ask users to interact with your updates
Even something as basic as "subscribe for more updates" works, but it certainly doesn't hurt to put more thought into it. YouTubers can get very inventive with the calls-to-action in their videos.
Participate in discussions
The more people are talking about what you post, the better, and you are certainly allowed to voice your opinion. Besides, users may have questions that only you can answer.
Reply to individuals quickly
A quick answer suggests concern. Of course, you can't be there 24/7 to answer to everyone, so it helps to use a chatbot.
Expand your social network
In social media, who you know matters as much as what you know. Keep getting new friends and followers and never stop. You can find them on your pages, but there will be countless more on others. How many new people have you spoke with today?
Do as your competitors do
Someone is bound to be getting more user engagement in social media than you. And while high engagement isn't a ranking factor, it often parallels with high rankings in Google. Find those people with the help of WebCEO's Dangerous Competitors tool.
Check which sites are in the same niche as you, then add the most competitive of them in another platform– Competitor Social Citations.
This will show you which ones get more social media engagement than you.
Now you can check out their pages and figure out what makes them work. Is it the updates they post? Is it how often they post them? Or maybe they gained and built a better network of followers and contacts than you? Only one way to find out.
Design your updates to maximize click-through rates
Users enjoy updates with great graphics and short, but engaging and descriptive texts. Emotion-evoking power words that fit the mood of your content can make a huge difference.
Another thing that catches the individuals' attention is pretty much possessing likes and shares under the update. They are indicators of quality that motivate individuals to give your content a try. Don't hesitate to ask your friends and coworkers to engage with your updates as soon as you post them. Their attention will be discovered by others.
Invest in paid promotions
When everything else fails (and even when it doesn't), appropriate a budget for paid ads.
Afterword
Social media's objective is communication between people on equal terms. There's no better place for connecting to your target market. The more users you gain and the better your relationship with them, the more traffic you will get.
So it all boils down to building a rapport with the people you want to invite to your website. Be an active element in your users' experience with your site– not only through your content, but also through good old human communication.